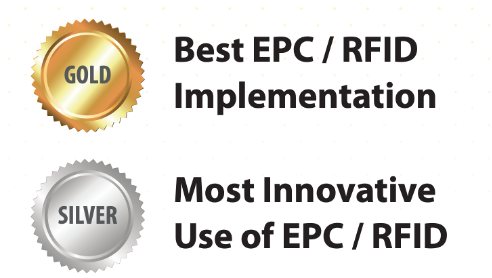 The Hong Kong RFID Awards was first established in 2008. The awards program is created to champion the use of EPC standards compliant RFID technology by enterprises. The principal objectives of Hong Kong RFID Awards are to:
Bring recognition to pioneering enterprises that have successfully brought EPC/RFID
technologies into their business operations.
Encourage the adoption of EPC/RFID technologies by businesses in Hong Kong and
the Pearl River Delta region.
Foster the development of new EPC/RFID products and services.
QBS was highly recognized by the awards of Best EPC / RFID Implementation in Gold and Most Innovative Use of EPC / RFID in Silver for "End-To-End Supply Chain RFID Item Level Tagging (ILT) for Fashion Retail Industry"
With the assistance of its implementation partners, NETAGE Development Limited and QBS System Limited, Penta (China) Manufacturing introduced RFID item-level tagging to enhance its logistics efficiency, preceded by pilot runs involving all its supply-chain partners, including its outsourced manufacturers and distributors, to let them experience the benefits. Their cooperation, particularly in picking the best-performing RFID tags under each product category, was also indispensable for the project's eventual rollout.
RFID tags were attached to different items in their standard packings, to achieve a 100% read rate, within two seconds of scanning. This uplifted their supply chain traceability, from manufacturing to receipt, quality inspection, warehouse check in, storage, internal transfer, stocktaking and repacking in the warehouses as well as check-ins, inventory count and inspection of display configuration at retail level.