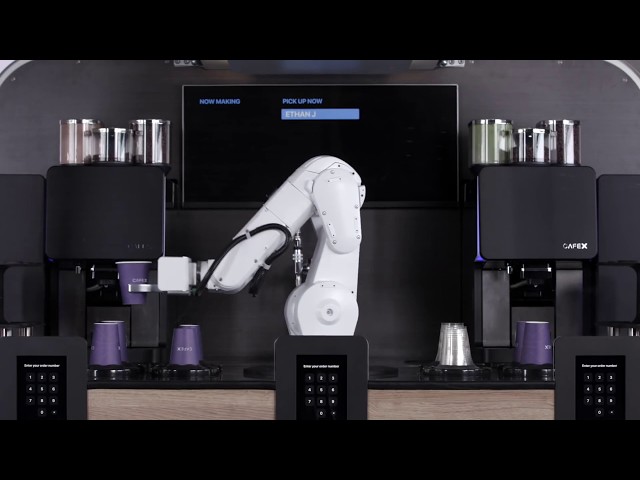 Robotic Coffee Bar - Cafe X
With award-winning design, Cafe X's Robotic Coffee Bar is the world's most advanced system for serving artisanal coffee, tea, and more. Utilizing an industrial robotic arm with a quirky personality, Robotic Coffee Bar is capable of consistently producing up to three drinks in under one minute. With the mobile app for iOS and Android, guests can order ahead and pick up their drink within seconds of arriving.
Back in 2014, Cafe X robotic kiosk had no market reference in the world for R&D. The startup co-founders were desperate to look for service providers to implement the software and overall automation integration.
However, no manufacturer was willing to take the prototype order for making the robotic kiosk due to high R&D effort and the risk as well as the MOQ consideration. Besides, co-founders also attempted to request quotations from software development houses in the US and found out the pricing was extremely expensive, around HKD 5 million.
QBS overcame the challenge with assigning a CTO and also a team of young and energetic developers for the first milestone – completed the working prototype in 6 months with less than 3 Mil budget. By applying the industrial-technology adoption experience into the development, it speeded up the process with the well-planned development activities across Software Team, Mechanical Team as well as the Partnered Manufacturer.
Cafe X is a legend of applying robotic arm in foodservice and hospitality industries as the first mover to operate a world-first automated coffee shop. The industry has been changed when Cafe X coffee shop came to the world, many others' competitors are joining the world competition to introduce robotic arm elements to create a better user experience in the products and services offered, such as stir-fry kitchens, burger kiosks, and other coffee shops. 
QBS has made the best move here to step into the next level of roadmap. The contribution successfully made Cafe X achieve The Winner of the LAUNCH Festival 2016 as well as closing the seed round fundraising for three million US dollars. From the experience gained in Cafe X, QBS has equipped with even robust capabilities in terms of the digital transformation across technologies of the Internet of Things in Industrial Adoption.